Of all the rooms in a home, the garage is usually the last to get a makeover. Yet it's the main room that tends to become the "catch-all" for all kinds of items. From holiday decorations to tools, the garage is the ultimate storage area for all the things that don't belong anywhere else in the house. It's one of the reasons that garage organization is getting new attention, and that custom garage design is a rapidly-growing niche in construction and home improvement. Whether you want to spend a little or a lot, there are lots of things that home owners can do to improve garage organization and develop good habits of success. Here are eight suggestions for getting more out of your garage. Home owners can adapt these ideas to fit their own needs and budgets.
1) Garage cabinets: You wouldn't think of having a kitchen without cabinets. Cabinets keep your kitchen organized and tidy and keep contents out of sight.
They'll do the same in your garage. Garage cabinets keep all those items, like tools and seasonal decorations, separated, organized and out of sight. They'll also keep potentially harmful chemicals, like paint, gasoline and antifreeze, behind closed doors and out of the way of children and pets. (You can even add locks for extra protection.)
Imagine a garage that looks as pristine as your kitchen! Not only do you improve aesthetics, it will be much easier to find those things that you don't use everyday when you do need them.
2) Drawers: Drawers, like cabinets, are ideal for storing smaller items that languish in the garage. Drawers are perfect for organizing smaller items like hand tools, nails and screws, paintbrushes and more.
3) Magnetic strips: Mounting magnetic strips on your garage wall makes storing metal tools and items as simple as it gets. It also makes efficient use of extra wall space that might otherwise remain void and unusable. Adhering metal tools to a wall-mounted magnet strip keeps them in quick view and saves the trouble of digging through tool boxes and drawers for those things like hammers, screwdrivers and pruners, that get used regularly.
4) Shelving: Adding wall mounted shelving is another great way to make the most of unused wall space. Shelving is easy to add yourself, or you can incorporate shelving into a professional custom garage design. Shelving is ideal for things that you want to keep in sight and have quick easy access to, like paint cans or sports equipment. You can even get creative with shelving and mount it to joists in unfinished garage ceilings for easy and economical overhead storage of items that you use infrequently, like Christmas decorations.
5) Pegboard: Pegboard, also known as "perforated hardboard," is a sheet of material made of metal, wood or wood composite, with evenly spaced holes (or perforations). Sheets of pegboard are mounted over existing drywall. A homeowner can insert anything into the holes, including hooks and screws, creating a custom configuration of storage devices for hand tools and other small items.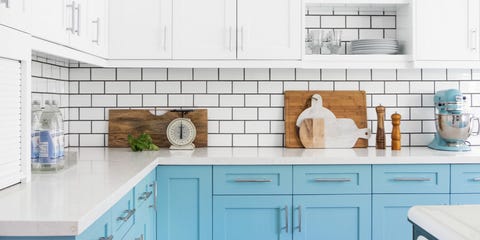 6) Nails and screws: Even the least handy of homeowners can wield a hammer or screwdriver. By adding nails and screws directly to garage walls, you can create custom storage for hand tools and small items. (Just be careful about weight, especially if nailing into drywall. Hanging items that are too heavy can damage walls.)
7) Chalkboard or whiteboard paint: Painting cabinets or even a small portion of a garage wall with chalkboard or whiteboard paint lets you write directly on that surface. You can "label" the contents of your cabinets or drawers quickly (without using actual labels). If you want to change the contents, you can just as easily change the "label."
8) Wall-mounted bikes and large tools: Just like small tools, you can mount larger items like bicycles, rakes and shovels on your garage walls. You can purchase mounting kits made especially for things like bikes complete with instructions on how to mount them. Or, if you're handy, you can create your own using off-the-shelf items like metal hooks from your local hardware store. Having a professional design and install custom garage cabinets and other components will give you exactly what you want for your own particular needs. However, using some simple tricks and inexpensive items from your local hardware store can also go a long way to improving the functionality of your garage.